Calendar and Announcements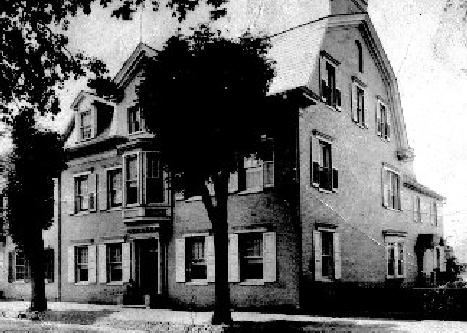 Photo courtesy of Historical Society of Carroll County
May 25-26, 2013: Ghost Expedition at Cockey's Tavern, Westminster MD
Situated along Falls Turnpike Road, Cockey's Tavern operated as a hostelry, store and tavern at least up until 1877. The oldest portion of the building dates to circa 1830′s when the building had enlarged beyond a simple log stucture. A thid floor was added to the structure around 1905.
During the Civil War, the building may have served as a temporary headquarters for the Confederate general J.E.B. Stuart before joining the Battle of Gettysburg.
The building is believed to be haunted by the ghost of a confederate soldier whose bootsteps are heard on the center stairwell. Paranormal investigators have witnessed these sounds and the shutting of a door. The ghost may have a penchant for redecorating and has reportedly displaced several paintings.
Photo courtesy of The Maryland Historical Society
Oct 13-14, 2012: Ghost Hunt/Expedition at Historic Savage Mill
Savage Mill operated as a working textile mill from 1822 to 1947. Placed on the National Register of Historic Places in 1974, the mill now houses a complex of restaurants, antique and craft shops, artists-in-residence, and high-tech professional services.
The ghost expedition will primarily focus on the oldest structures, the Carding and Spinning buildings which date to 1822.
Savage Mill is believed to be haunted by the spirits of former workers, and their children who met their unfortunate deaths there. Paranormal activity has been reported in the Carding Tower and Paymaster's Office.
The SpiritGals paranormal team captured an EVP at Historic Savage Mill containing footsteps and a female child plaintively crying "Ma, Please Come Home…"
The expedition will experiment with low-footprint technologies encompassing: data acquisition/tagging, RF spectrum analysis, and four-channel audio/sound stage(s).
UPDATE: The expedition concluded successfully on the morning of Oct 14. Most equipment worked well in the field; however, sound stages lost power at times.
Collection amounted to 32 hours of video, 24 hours of audio and 8 hours of sensor data from data acquisition sensors.
Preliminary findings were presented before the Savage Historical Society on November 19, 2012.
We are cautiously optimistic on audio results based on initial impressions. An example finding below provides some of the basis for this optimisim.
Historic Savage Mill Ghost Expedition 2012 ("Thank You Martin")
Photo courtesy of The University of Maryland
12 May: Ghost Hunt/Expedition at The University of Maryland, College Park Portions of the expedition will be streamed over the Internet. Investigation sites include: Morrill Hall, Marie Mount Hall, and Rossborough Inn.
Morrill Hall is among the oldest buildings and some say the most haunted.
Marie Mount Hall is said to be haunted by the spirit of its namesake.
Rossborough Inn is said to be haunted by a spirit named Miss Betty.
UPDATE: The final expedition report has been filed and is available online.
On October 12, 2012, the University of Maryland issued a press release on the expedition in "Mysterious Maryland".
On Oct 15, 2012, the report was featured in the Baltimore Fishbowl article "What's the Most Haunted School in Maryland?"
University of Maryland Ghost Expedition 2012 ("Just You and Me")
27 Oct 2011: SyFy TV Show Haunted Collector came to Maryland. If you know of haunted place and perhaps wish to appear on future shows, contact the producers at helpthehaunted@gmail.com