Calendar and Announcements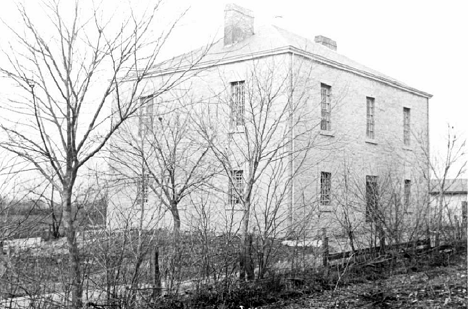 Somerset County Jail (c1910) [Grey Eagle Post] Photo: Maryland Historical Trust
Fall 2016: Somerset County Jail Ghost Expedition Somerset County/Princess Anne MD
The Somerset County Jail (historically known as the Grey Eagle) was built in 1857-1858 and served in that capacity until 1987 until it was replaced by a more modern facility. The jail sat vacant for nearly a decade and the town considered demolishing the facility in 1999.
The jail is the only stone building in the county and was constructed of formed stone obtained from Port Deposit MD. Preservation-minded citizens advocated for the jail's restoration.
With funding from the Maryland Historic Trust and others the old jail was renovated. The building reopened in 2008 where it now serves as the headquarters for the Princess Anne Police Department.
Haunted legends connected with the jail are believed connected to the town's troubled racial past that area residents would prefer to forget. Princess Anne has the regrettable legacy of being the site of the last lynching in Maryland history.
In 1933, a black man named George Armwood was accused of assaulting an elderly white woman. "He was removed from the Princess Anne jail by a white mob, dragged around town by a truck", and eventually hanged and his body was tossed into a bonfire. "After his death, the rope that formed the noose was cut up and distributed as a souvenir."
George Armwood was considered a "hard worker, uncomplaining, quiet, and generally well-liked." He was also mentally-impaired, described as "feeble-minded" in those times and should have received care in an institution. According to the Afro-American newspaper, he and other cognitively-disabled African-Americans were held in peonage, considered a polite term for slavery.
Thirty six years earlier in 1897, a local African American laborer, William (aka Cuba) Andrews, was lynched immediately after he was tried and convicted of assaulting Mrs. Benjamin T. Kelley. He had been held for trial in Baltimore City Jail for his safekeeping.
At his trial in the Princess Anne Courthouse, Andrews confessed to the crime without any defense and the judge ordered him to be executed by hanging. After the sentence a large crowd overpowered officers who were attempting to transfer the convicted man to jail. Andrews was beaten with bats and clubs and cut with razors until unconscious; he was later lynched on a walnut tree.
Seven of Maryland's 25 to 30 lynchings took place on the Eastern Shore with four occurring in Somerset County. No one in Maryland was ever convicted in connection with these crimes. The Eastern Shore lynchings were forcefully condemned by the Baltimore Sun in a series of blistering editorials penned by columnist H.L. Mencken, an example of which is "The Eastern Shore Kultur."
The Grey Eagle Post has haunted reputation with reported activity consisting of apparitions, displacements of objects and inadvertent captures of electronic voice phenomena. Local ghost legends point to Armwood and Andrews as sources of the haunting. Image findings lend some support to this notion. However, presences could as well include former residents who participated in mob justice.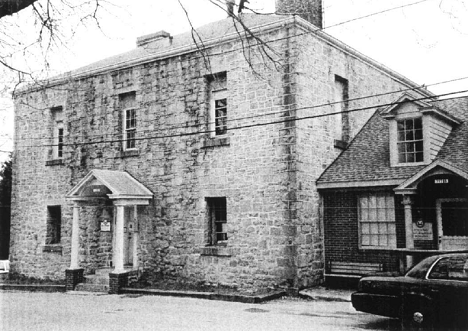 Somerset County Jail [Grey Eagle Post] (2003) Photo: Maryland Historical Trust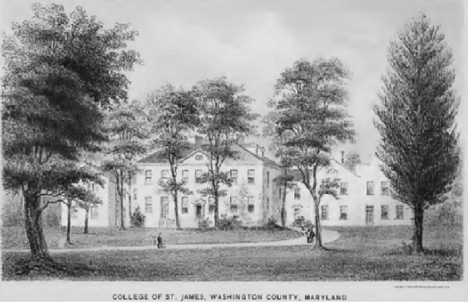 St James School (c 1850), Photo: Anglican Diocese of Pittsburgh
Summer 2016: St James School Ghost Expedition Washington County/Hagerstown MD
The Saint James School in Hagerstown Maryland is a coeducational college preparatory school founded in 1842 by leaders of the Oxford Movement in the Episcopal Church.
The story of St James begins in 1792 with the construction of the Fountain Rock mansion on the Conococheague Manor estate owned by General Samuel Ringgold.
The name Fountain Rock is an translation of Indian phrase "Bai Yuka." According to legend, an Indian princess who had fled her captors discovered the fountain spring. When she returned with her tribe she named the water source Bai Yuka.
After the death of General Ringgold in 1829 the Conococheague Manor estate was sold at auction to service debts. The 20 acre portion containing the Fountain Rock mansion was acquired in 1841 by Washington county Episcopal clergy to build a preparatory school and college.
Fountain Rock was repaired and renamed Claggett Hall and the school officially opened in October 1842. Claggett Hall was named for Thomas John Claggett, the first bishop of the American Episcopal Church. The school obtained a charter as St James College in 1844.
The first building constructed by St James College was Kemp Hall in 1851, named for Bishop James Kemp the successor to Bishop Claggett. Kemp Hall was destroyed by fire in 1857 and was rebuilt in 1869.
During the Civil War, St James College was closed in 1864 when Confederate soldiers briefly arrested the headmaster Rev Dr John B Kerfoot.
After Reconstruction, she school reopened in 1869 as a college preparatory school for young men under the leadership of Henry Onderdonk, a former president of the Maryland Agricultural College (presently the Univerity of Maryland). Claggett Hall was destroyed by fire in 1926 and was rebuilt in 1928.
Enrollments at the school expanded over the years under distinguished headmasters such as Adrian Onderdonk and Rev John Owens. The school became coeducational in 1978. female dorms were instituted in 1990.
Most haunting legends at St James School seem to be attributed to the late General Ringgold whose apparition is said to appear on campus as a masked ghost rider or with a phantom horse-drawn coach. Some legends concern apparitions of the Indian princess. Poltergeist activity has been said to occur in the dining hall (Kerfoot Rectory) and the Alumni Hall.
A paranormal investigation was conducted at St James School in 2013. Our expedition in Aug 2016 obtained several instances of including strikingly a clear response "Claggett" to the standard control question for location identification.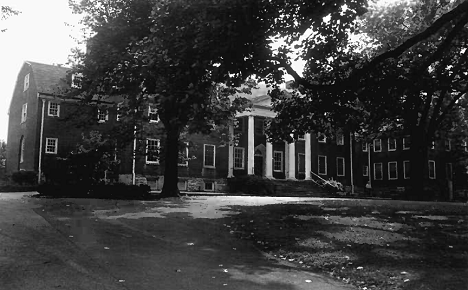 St James School, Claggett Hall (1973), Photo: Maryland State Archives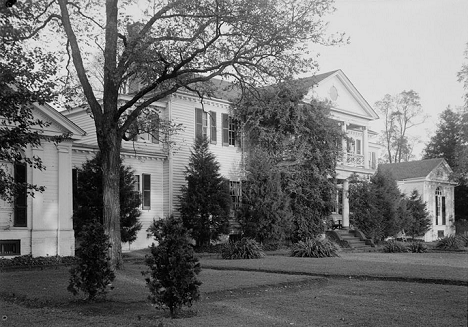 Belle Grove Plantation (c 1934), Photo: Library of Congress
Summer 2016: Belle Grove Plantation Ghost Expedition King George County/Port Conway VA
Situated overlooking the Rappahannock river, Belle Grove Plantation House sits on the site of the birthplace of President James Madison.
The original home in which President Madison was born, the Conway House, no longer exists but it likely stood just to the south of the present day plantation house.
In 1790 the 700 acre estate was purchased from Francis Conway III by Bernard Hipkins, who later conveyed the property to his son-in-law William Bernard.
It is unclear when the Belle Grove house was constructed. Tax and insurance suggest the plantation home was constructed between 1791 and 1796.
In 1839, the home was purchased by Carolinus Turner and considerably enlarged with additional wings, porticoes and colonnades forming a five-part complex. During the Turner years the plantation estate owned 92 slaves.
During the Civil War Port Conway and the Belle Grove estate served as a Union supply depot. On April 24 1865, presidential assassin John Wilkes Booth attempted to made his escape across the Rappahannock using the ferry at Belle Grove. He was caught and executed by Union troops two days later.
After the death of Carolinus Turner in 1876 the estate passed to a succession of owners. By the early 1900s, Belle Grove was operated as a dairy farm.
In 1929, the estate was sold to real estate broker John Hooker and his wife Mary. The home was added to the National Register of Historic Places in 1973. John Hooker passed away a year later and Mary in 1981.
In 1997 the estate was acquired by the Haas family from Austria who completely restored the home preserving it for future generations. It was acquired by the present owners in 2011 who operate the historic estate as bed and breakfast.
It is unclear when haunting legends began. Apparitions reported at Belle Grove include a lady dressed in white, an African–American woman in a yellow dress wearing a turban and a Union soldier.
The estate is also believed to be visited by members of the Hooker and Turner families, decedent slaves and possibly pets. The SyFy channel paranormal television series Ghost Hunters aired an investigation of the home in 2014.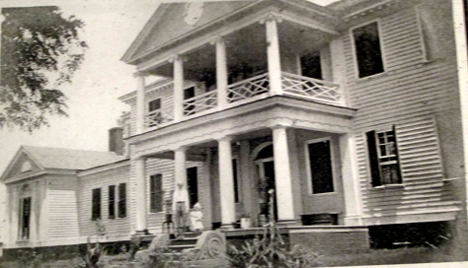 Belle Grove Plantation (c 1901), Photo: Belle Grove Plantation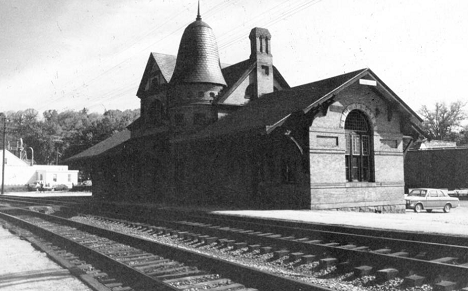 Oakland Maryland B&O RR Station (1970), Photo: Maryland State Archives
Fall 2015: Ghost Expedition Garrett County/Oakland MD
The B&O Railroad Station in Oakland was described in a postcard as "the oldest railroad station on top of any mountain in the world." The Oakland Railroad Station is considered one of the finest remaining architectural examples of a Queen Anne style railroad station.
The original Oakland B&O rail station was built in 1851 and it played an important role in the economic development of the region, particularly for the delivery of timber to eastern markets. It was later destroyed by a fire in 1874.
After the Civil War, John Work Garrett, influential president of the B&O realized the growth potential of the area as a luxury resort. The B&O built the Deer Park Hotel in 1873 to stimulate tourism to the nearby luxury mountain resort area of Deep Park. The hotel was host to many prominent visitors to include Presidents Ulysses S. Grant, Benjamin Harrison, Grover Cleveland, and William McKinley.
John Garrett passed away in his cottage at Deep Park in 1884 and was never able to witness the dedication of the present day railroad station that year. The station's landmark architectural prominence reflected the importance that John W Garrett placed on the town and the area. The station was added to the National Register of Historical Places in 1974.
The Oakland B&O Railroad station has undergone a series of renovations to restore it's historical appearance and to host museum quality exhibits.
Initial restoration work occurred for the centennial of rail station in 1984
Subsequent to its acquisition by the City of Oakland in 1998, the station's slate roof and stained glass windows were restored in 2000
In recent years, extensive upgrades have included a central air system, ultraviolet light filters, humidity controls and security systems
It is perhaps during these renovation periods that nascent haunting legends began to form. However, it is unclear whom haunts the station. Many B&O rail workers died in industrial accidents and such persons could perhaps be among the potential sources of the haunting.
A paranormal investigation in 2013 reportedly encountered unsourced footsteps. During that investigation, a confused male voice was captured in electronic voice phenomena (EVP) that had queried "Is this Hell?"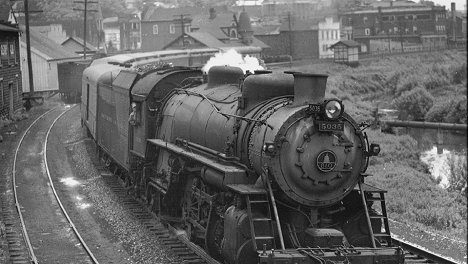 Train Departing Oakland B&O Station (c1930s) Photo: Oakland Visitors Guide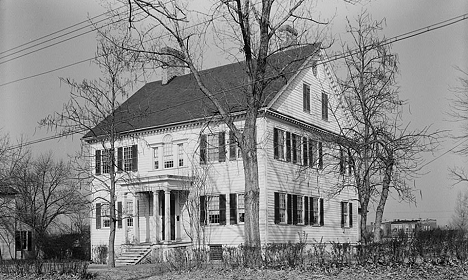 Poplar Hill (1936) Salisbury MD Photo: Library of Congress
Fall 2015: Ghost Expedition Wicomico County/Salisbury MD
Poplar Hill Mansion is the oldest building in the city of Salisbury. Construction on the manor home began in 1795 on a plantation estate called "Pemberton's Good Will" owned by Major Levin Handy.
Major Levin Handy was never able to complete construction on the home. He lost the estate due to debts and declining health. He died in 1803.
In 1805 the home was acquired by Dr John Huston, a prosperous physician. His family held the home throughout much of the 17th century. Dr Huston performed many surgeries in the home, some of them on soldiers during the War of 1812. Dr Huston died in 1828 and the estate was left to his wife Sarah.
His family continued to reside in the mansion as the town of Salisbury grew. The estate was subdivided around the 1840′s and by then had acquired the name Poplar Hill.
Two streets near the mansion were named for the youngest Huston daughters, Isabella and Elizabeth. Sarah Huston died in 1853.
Her daughter Elizabeth Huston sold Poplar Hill to George and Caroline Waller in 1882. The Waller family held the estate through 1945. The home contains numerous items of memorabilia acquired by the Waller family.
During parts of Huston and Waller family tenures, Salisbury experienced two disastrous fires in 1860 and 1886 that both destroyed the downtown business district. The 1886 fire destroyed over 22 acres of property and claimed 209 buildings. The estate survived both fires due to its location at the edge of town.
The estate was briefly held by Fred Adkins who attempted to restore the home as a Masonic temple. In 1948 the home was acquired by the Garber family who operated an 18th century antique shop downstairs.
The home was added to the National Register of Historic Places in 1971 and acquired by the city of Salisbury in 1974 who operates the home as a museum.
Haunted legends were formed during the Huston years. The home is believed to be inhabited by multiple spirits.
One of them is possibly a house servant named Sarah, who died tragically when her clothes were quickly engulfed in flame from fireplace embers.
According to multiple accounts, she is said open dressers and drawers, and pull linens as if she were still in service.
Additional spirits could include the late Dr Huston and possibly another servant named Samuel.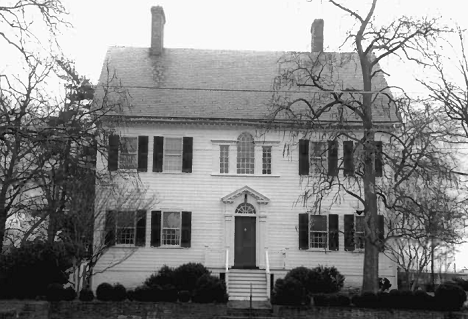 Poplar Hill (1968) Salisbury MD Photo: Maryland Historical Trust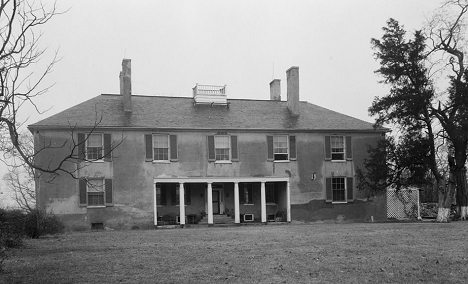 Tudor Hall (Dec 1936) Leonardtown MD Photo: Library of Congress
Spring 2015: Ghost Expedition St Mary's County/Leonardtown MD
Tudor Hall is one of the oldest buildings in Leonardtown MD dating to around 1745. It was constructed on a large estate called America Felix Secundus
The home was built by Abraham Barnes, a successful tobacco farmer who organized militia for the French-Indian and Revolutionary Wars. He died in 1778 leaving the estate to his son Richard
A long-term tenant of the home was John Thompson Mason, who was Richard Barnes' brother-in-law and brother of George Mason, author of the Bill of Rights. In 1804, John T Mason Jr inherited the Barnes estate
Before 1817, ownership of the home was transferred to Philip Key, an uncle of Francis Scott Key, the author of the national anthem
Another relative, Eliza Key, had helped to save the home when the British attacked Leonardtown in 1814
In 1818 Henry Greenfield Sothoron Key inherited the estate from his father, which by this time had been renamed "Tudor Hall." In 1820 the estate underwent extensive remodeling
The property was subsequently passed to his son Joseph Key who lived there until his death in 1917. The property remained in the possession of heirs of Joseph Key until 1949
By this time the haunted legends in connection with Tudor Hall and their possible connection to the Key family appear to have been established
According to local legend, the bell of an old, broken clock within Tudor Hall would toll whenever a member of the Key family died
In 1949, Mary Patterson Davidson purchased the estate, saving it from demolition. She would later suffer an untimely death
In accordance with her wishes the estate was deeded to the St Mary's Library Association for use as a public library and memorial to men from the county who had died serving in World War II
In 1968, the estate was restored to its 1830 condition and the estate was listed on the National Register of Historic Places in 1973
In 1984, the Saint Mary's County Historical Society (SMCHS) purchased the building which currently houses the SMHCS library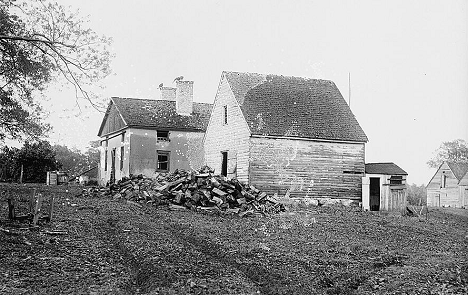 Tudor Hall Slave Quarters (c 1920), Leonardtown MD Photo: Library of Congress
The nearby Old County Jail was constructed in 1876 and currently serves as SMCHS headquarters
In 1972, a large rock was transferred outside the facility that is believed to be associated with the ghost legend of Moll Dyer
Moll Dyer emigrated to Maryland 1677. She lived alone on the outskirts of a settlement that preceded present-day Leonardtown. She was viewed as an eccentric due to her old world ways. She had been regarded as a witch and was feared and hated by superstitious townsfolk
Without a trial she was accused by townsfolk as responsible for a series of misfortunes to include an epidemic in 1697, a flood and crop failure
According to accounts, Moll Dyer fled into the woods in winter after a mob had burned her home to ashes. Days later her frozen corpse was found kneeling upon a large stone with one of her hands affixed to it
Local legend says "if you place your hands were Molls' hand had shaped the stone, you'll feel a second icy pair, gripping your own"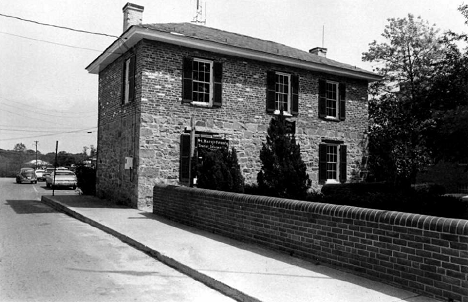 St Mary's Old County Jail, Leonardtown MD Photo: Maryland State Archives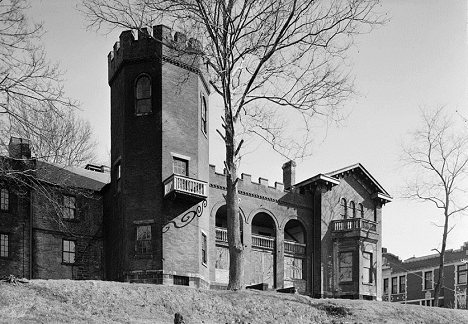 Nemacolin Castle (Apr 1963) Brownsville PA Photo: Library of Congress
Nov 9-10, 2014: Ghost Expedition Brownsville PA/Nemacolin Castle
Nemacolin Castle dates to 1789. Constructed as a trading post by frontiersman Jacob Bowman, it served immigrant settlers making their way to Ohio country
The estate takes its name from the Delaware Indian Chief Nemacolin, who was instrumental in helping settlers transit the area
Parts of the home were constructed from remnants of the Old Redstone Fort, which was an outpost in the French and Indian War
Nemacolin Castle was home to three generations of the Bowman family spanning over 170 years. The estate expanded to its present form in 1840 acquiring an east wing and an octagonal tower
Currently Nemacolin Castle is home to the Brownsville Historical Society. The estate was added to the National Register of Historic Places in 1975
The property is considered to be quite haunted and may host up to ten spirits to include the late Jacob Bowman and possibly other Bowman family members
Several apparitions reportedly have been sighted on the upper floor. Among them are: an elegant woman in a white dress; a matron in a black dress; a woman in a purple period dress; and a curly-haired girl
Male shadow forms and apparitions have been witnessed in the basement. The ghost of Jacob Bowman himself reportedly has been seen in the library
Kinetic activity (e.g. object displacements/ movements) have also been reported in the library
Given the potential for a elevated levels of activity, the ghost expedition will seek optimize video and audio coverage in all high-interest zones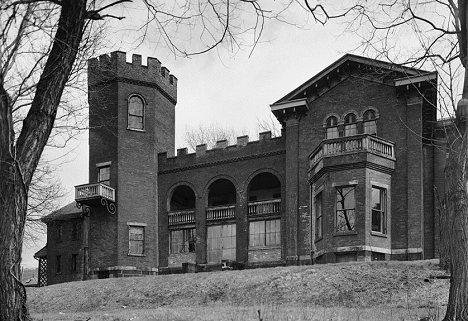 Nemacolin Castle (Apr 1963) Brownsville PA Photo: Library of Congress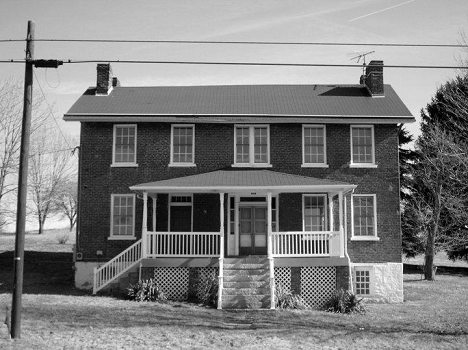 Abel Colley Tavern SW Elevation (2011) Smock PA Photo: FCHS
Nov 8-9, 2014: Ghost Expedition Smock PA/Abel Colley Tavern
Constructed circa 1840 Abel Colley Tavern was the home of Abel Colley who earned his fortune from operating taverns along the Old National Pike
Although the property was built as a tavern house and contains a bar room and a ballroom/dance floor, it was used primarily as a residence by Abel Colley in his retirement years
From 1872-1884, it was the residence for the family of Searight W. Colley, himself a prosperous farmer and buinessman, and the youngest son of Abel Colley
In the 1930's the home was acquired by the Dulik family, who was the last family to live in the home
In 1995, the Abel Colley Tavern was added to the National Register of Historic Places as part of wider effort to preserve the history of nineteenth century commercial development along the Old National Pike
Dulik family heirs transferred the home to the Fayette County Historical Society in 2009. After a brief restoration effort the home was opened to the public as a museum the following year
The first accounts of haunted activity in the home were from the Dulik children.
While growing up in the home, the Dulik sisters often heard the sounds of laughter and music coming from the upstairs ballroom.
One of the Dulik sisters also reported seeing apparitions (what she termed "phantoms") also in the upstairs ballroom
Museum staff reported hearing the distinct sound of bootsteps coming from the upstairs ballroom. The bootsteps were so heavy it caused the chandelier on the floor directly below to shake
The ghost expedition will attempt to obtain clean audio and environmental data to confirm these accounts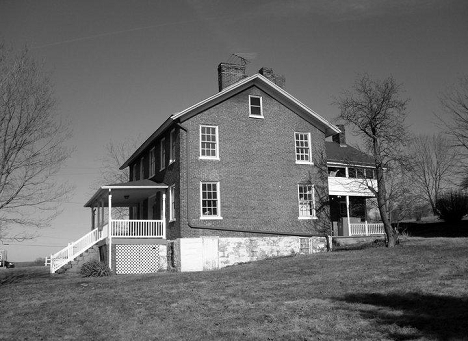 Abel Colley Tavern SE Elevation (2011) Smock PA Photo: FCHS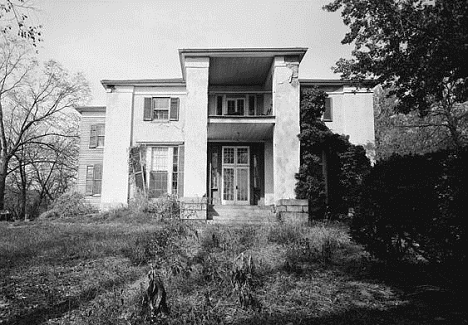 Mount Ida Home (Oct 1964) Ellicott City MD Photo: Library of Congress
Oct 24-26, 2014: HallowRead Conference/Ghost Expedition Ellicott City MD
Maryland Paranormal Research ® will host a paranormal investigation demonstration at the Hallowread 2014 conference in Historic Ellicott City Maryland. Visit the HallowRead Facebook site to attend this event and participate in giveaways.
Proceeds from the three-day conference are donated to charity. The event is promoted by Fangoria magazine. Conference presentations throughout the event will be hosted at the Roger Carter Center.
Mount Ida, pictured above, was constructed in 1828 for William Ellicott, son of Jonathan and Sara Ellicott, and grandson of Andrew Ellicott, one of the founders of Ellicott Mills (now Ellicott City).
The home was built of rubble stone, stucco and painted old Maryland gold. The architecture is expression Greek Revival blended with Quaker simplicity. William Ellicott's time in his new home was unfortunately short-lived; he passed away in 1836 at the age of 43.
In 1845 Mount Ida became the residence of Judge John Shoemaker Tyson and his wife Rachel P Snowden, who were among Maryland's more prominent families. After Judge Tyson's death in 1864, the property passed to his heirs and this is when the ghost legends took form.
Rachel Tyson passed away in 1889. The following year, their only son John, an attorney, died tragically in a boating accident.
John left behind three maiden sisters (Cornelia, Anna and Ida), all of whom resided in the home for the rest of their lives. Cornelia and Anna died respectively in years 1893 and 1895.
The last to pass away was Miss Ida Tyson in 1925. Locals believe her ghost maintains a presence in the house.
The elder Miss Ida reportedly kept a ring of keys with her at all times. Workers claim to hear the sound of her keys rattling as she roams the house.
"During the last years of her life, Miss Ida was recalled as a lively person who used and ear horn and a cane to move about." "She is said to have loved the old house and the spirit that she left behind certainly seems to be a benevolent one."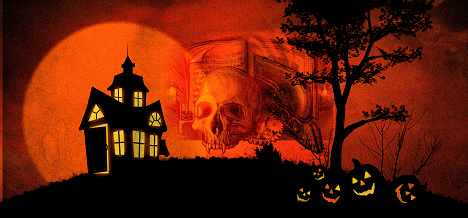 Hallowread 2014 Conference – Ellicott City MD (Oct 24-26 2014)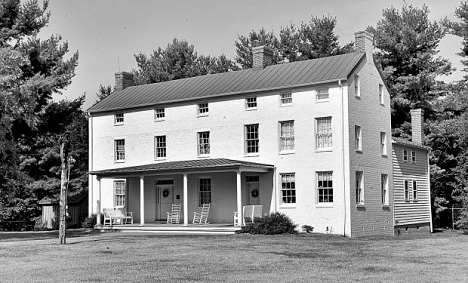 Benson-Hammond Home, Linthicum Heights MD. Photo: AACHS
Oct 11-12, 2014: Ghost Expedition Benson-Hammond House
The Benson-Hammond House dates back to around 1825 where it was home to Thomas and Nancy Benson, and built on land called "Addition to Timber Ridge."
The modest farmhouse was expanded after the Civil War to accommodate the growing family of Joseph and Mary Susannah Benson and their eleven children. Joseph re-named the property Cedar Farm.
In 1887, Cedar Farm was acquired by Thomas and Rezin Hammond. Rezin Howard Hammond took residence in the home and operated the land as a truck farm which provided produce to local and Baltimore markets.
As was custom with farms in the area, Polish immigrant workers were employed to harvest crops.
Hammond family members continued to live there until 1947 when the land was acquired for the construction of Friendship airport.
The Maryland State Aviation Administration leased the property to the Ann Arrundell County Historical Society (AACHS) in 1974.
AACHS reopened the home as a museum in 1982. The home was added to the National Register of Historic Places in 1990.
The Benson-Hammond home has acquired a haunted reputation having been investigated by a number local area paranormal groups over recent years.
The property at one time contained multiple graves that were relocated for the building of Friendship Airport.
A historical society librarian who was working in the home overnight reported that she was awakened by a music box that was playing.
The upper floor is considered to be very active. One active room was earlier remodeled as a child's bedroom; it's original purpose is unknown.
In past investigations, there have been consistent audio references to "George" (possibly the late George Milton Benson?).
Prior investigations have also obtained regular and sentence-length references in audio to "Benson", "Mary", "Tommy", and "Tom."
The ghost expedition will attempt to clarify potential presences there.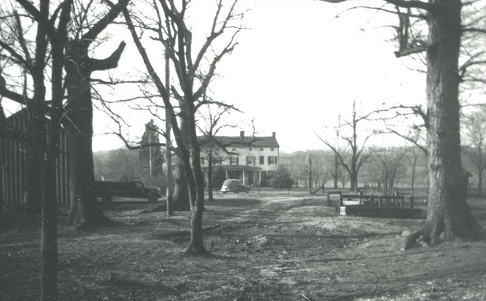 Benson-Hammond Home (c 1940), Linthicum Heights MD. Photo: AACHS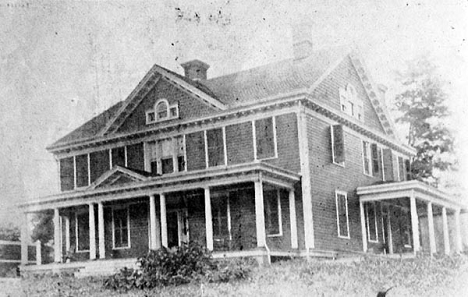 John McDonald Home c1910 Sykesville MD Photo: Sykesvilleonline.com
May 24-25, 2014: Ghost Expedition Sykesville Town House
Sykesville has been called "The Town That Refused to Die." During the Great Maryland Flood of 1868 the Patapsco river swept away the town and a fire in 1937 destroyed the heart of its business district.
The Sykesville Town House dates back to 1893 where it was home to Sykesville businessman John McDonald, who owned the town's stone-built general store. Today Sykesville Town House is the seat of the town government.
However it has acquired a haunted reputation over recent decades. Most reported activity can be characterized as prankish including odd noises, footsteps, object displacements and doors opening/closing on their own.
Locals believe the building is haunted by the late Millard Cooper, who served for many years as the town's policeman, and had a reputation as a prankster.
His apparition and that of an unknown woman have been seen. Millard was also fond of cigars and the faint aroma of cigar smoke can be detected in the attic.
A paranormal team captured a phrase-length EVP while investigating the building that said "burned to the ground." Perhaps a reference to the 1937 fire?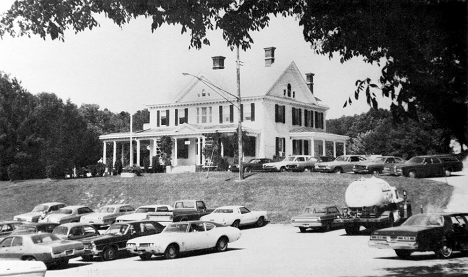 Sykesville Town House c1970 Sykesville MD Photo: Carroll County Times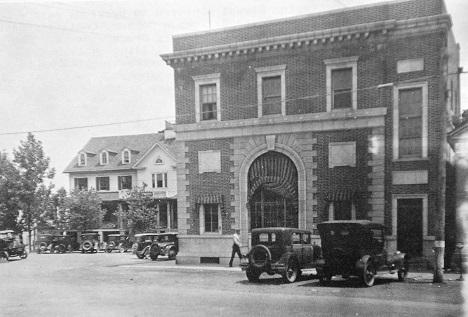 Leonardtown MD circa 1930 Photo: Chronicles of St. Mary's 1980 edition
Leonardtown MD: Film Documentary on Moll Dyer Ghost Legend

A local production company is searching for anyone who has had an encounter with the ghost of Moll Dyer for an upcoming television series. If you've had an experience with this legendary Southern Maryland witch, contact Laura Rammelsburg via email at lrammelsberg@sirensmedia.com.[Artistic rendering of Moll Dyer legend by Norma Durkin.]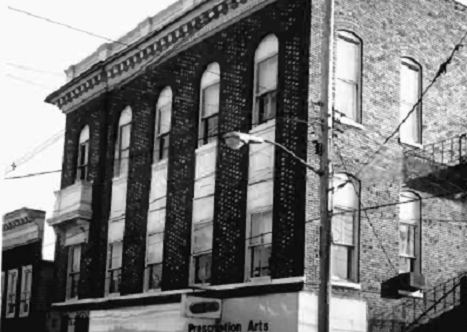 Brunswick Heritage Museum c1978 Photo: Maryland Inventory of Hist Properties
Oct 12-13, 2013: Ghost Expedition at Brunswick Heritage Museum
The Brunswick Heritage Museum celebrates the town's legacy as a major rail hub for the historic Baltimore and Ohio (B&O) Railroad. Brunswick was once home to the world's largest rail yard upon its completion in 1907.
The museum is located in a building dating to 1904 and that once housed the Improved Order of Red Men, a drinking society whose origins trace to the secret patriotic societies before the American Revolution.
For many decades the building was owned by another community-oriented secret society called the Fraternal Order of Eagles.
According to various accounts, reports of haunted activity include:
A woman in a white dress seen walking around the second floor.
Instances of strange noises (footsteps/voices) and object displacement.
Paranormal investigators recorded a sentence-length EVP "Have a Nice Day", and "Smith", a possible reference to the late physician Dr. JGF Smith.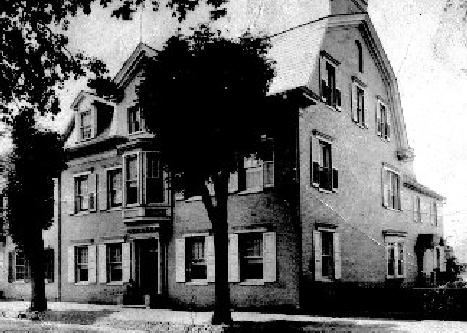 Cockeys Tavern c1910 Westminster MD Photo: Hist Society of Carroll County
May 25-26, 2013: Ghost Expedition at Cockey's Tavern, Westminster MD
Situated along Falls Turnpike Road, Cockey's Tavern operated as a hostelry, store and tavern at least up until 1877. The oldest portion of the building dates to circa 1830's when the building had enlarged beyond a simple log stucture. A thid floor was added to the structure around 1905.
During the Civil War, the building may have served as a temporary headquarters for the Confederate general J.E.B. Stuart before joining the Battle of Gettysburg.
The building is believed to be haunted by the ghost of a confederate soldier whose bootsteps are heard on the center stairwell. Paranormal investigators have witnessed these sounds and the shutting of a door. The ghost may have a penchant for redecorating and has reportedly displaced several paintings.
UPDATE: The expedition concluded successfully on the morning of May 26 2013. Equipment worked well in the field; all expedition objectives were met.
Collection amounted to 20 hours of video, 20 hours of audio and 15 hours of sensor data from data acquisition sensors.
Preliminary findings were provided to the Historical Society of Carroll County.
The findings may have provided potential indications on the identity of Civil War soldier ("Take Them to Private Gruber").
ARCHIVES of Maryland Paranormal Research ® #tumblr #hauntedmaryland Westminster, MD 2013 ("Take Them to Pvt Gruber") http://t.co/xfV5ggBQto

— Maryland-Paranormal (@maryparanormal) July 19, 2014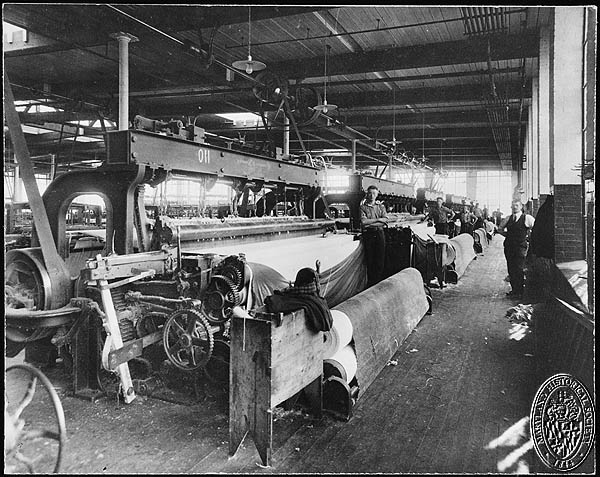 Historic Savage Mill c1900s Savage MD Photo: Maryland Historical Society
Oct 13-14, 2012: Ghost Hunt/Expedition at Historic Savage Mill
Savage Mill operated as a working textile mill from 1822 to 1947. Placed on the National Register of Historic Places in 1974, the mill now houses a complex of restaurants, antique and craft shops, artists-in-residence, and high-tech professional services.
The ghost expedition will primarily focus on the oldest structures, the Carding and Spinning buildings which date to 1822.
Savage Mill is believed to be haunted by the spirits of former workers, and their children who met their unfortunate deaths there. Paranormal activity has been reported in the Carding Tower and Paymaster's Office.
"One of the deaths was that of Rebecca King, a mill worker in the 1800s, who, while carrying cotton spools and other supplies, tripped and fell to her death in the mill's tower."
Another Savage Mill ghost is Frances Reeley, "a young daughter of the mill's last superintendent in the 1940s." "Little Frances is referred to as a prankster ghost."
She reportedly "runs along the creaking floor boards and laughs and skips in the halls along with other young ghosts." She is also "known to trip people in staircases and peer through windows."
The SpiritGals paranormal team captured an EVP at Historic Savage Mill containing footsteps and a female child plaintively crying "Ma, Please Come Home…"
The expedition will experiment with low-footprint technologies encompassing: data acquisition/tagging, RF spectrum analysis, and four-channel audio/sound stage(s).
UPDATE: The expedition concluded successfully on the morning of Oct 14 2012. Most equipment worked well in the field; however, sound stages lost power at times.
Collection amounted to 32 hours of video, 24 hours of audio and 8 hours of sensor data from data acquisition sensors.
Preliminary findings were presented before the Savage Historical Society on November 19, 2012.
The findings indicated support for the haunting legend of Rebecca King ("Rebecca") and ("Go Find Ms. King").
Historic Savage Mill Ghost Expedition 2012 ("Thank You Martin")
Univ of Maryland Morrill Hall c1933 College Park MD Photo: Univ of Maryland
12 May: Ghost Hunt/Expedition at The University of Maryland, College Park Investigation sites include: Morrill Hall, Marie Mount Hall, and Rossborough Inn.
Morrill Hall is among the oldest buildings and some say the most haunted.
Marie Mount Hall is said to be haunted by the spirit of its namesake.
Rossborough Inn is said to be haunted by a spirit named Miss Betty.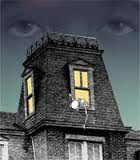 UPDATE: The final expedition report is available online and has been cited in various media.
On October 31, 2013, the University of Maryland Archives issued a blog post on the expedition in "Ghostly Encounters: A Night at the Rossborough".
On Oct 15, 2012, the report was featured in the Baltimore Fishbowl article "What's the Most Haunted School in Maryland?"

Oct 31 2013 Terrapin Tales: Ghostly Encounters: A Night at the Rossborough
comments powered by

Disqus