5-6 November 2011: An initial investigation was performed at a private residence in Arnold MD. The client reported a highly active haunted location, with regular levels of activity manifesting across several forms. The majority of reported activity was in the form of APPARITIONS; some recurring examples were a well-dressed ghost male in period clothing, and another in religious/monastic-style clothing, a female in a stained white dress, as well as white and black shadow figures.
Less regular and occasional forms of activity were: SOUNDS (banging/dragging noises on floors); SPEECH ("I Love You", "Hello" or other greetings, and chanting have been heard by residents); MOVEMENT (inexplicable placement of objects in the yard); PHYSICAL (residents have reported stroking of hair, light pokes and light sratches and a visitor was pushed).
The activity dates to as early as 2003, but seems to have intensified since Oct 2010. Some family history/experiences may be relevant to the timing of events, but will remain confidential. The family had attempted several mitigation techniques to remove the activity, involving psychics, religious or folklore-based remedies. All have met with no lasting success. Activity had been experienced throughout the home; however, the most active areas reported were the basement and kitchen.
The investigation employed static night-vision capable digital camcorders, digital voice recorders, electrical meters, and motion sensors. The cameras provided infrared coverage of the basement and kichen. The majority of EVP sessions were conducted in the basement and living room/kitchen areas. A Tri-Field Natural EM meter was positioned in the basement. The investigation commenced at 10 PM EDT on 5 November and concluded at 3 AM EST on 6 November.
AUDIO: Digital voice recording sessions pointed to several direct, and clear reponses to questions or statements. Class B EVP included clearly stated words such as "What ? … How ? …" and "I'm Here …" In apparent connection to attempted provocation and demands to leave, an entity responded with "Haven't Yet … Never …" In one instance, a whole phrase was uttered "Dozens to Let Go …"; this was said moments after an entity said "Tap …"
VIDEO: No apparations were recorded. There was pronounced orb-activity during attended basement video sessions when the client was in the room. Most orb activity was likely dust or insects; however, some loosely coincided with audio activity/evidence. Two camera anomlies were noted during basement video sessions consisting of a momentary white scratch and in one instance the camera inexplicably went out of focus, while the client was speaking.
ELECTROMAGNETIC: Limited phenomena involved electromagnetic (EM) energy. However, the effects could be described as dramatic. The basement camcorder, which had registered over 400 minutes of battery life, was completely drained of power within 100 minutes. Similar experiences with batteries had been noted by the client's spouse. In another instance, the natural EMF meter alarmed while no one was present in the basement.
MOVEMENT/PHYSICAL: No objects were seen to be displaced or moved. However, collection capabilities were not optimized to monitor this. Audio from unattended video sessions captured several loud knocking, dragging or banging noises. Overall, most noises could be attributed to ventilation and/or movement/conversations/activity upstairs. However, some knocks/taps appeared to repond to questions or requests.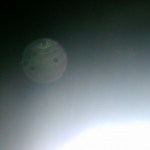 ASSESSMENT: The investigation validated some of the client's claims and provided at least moderate indications of an intelligent haunting at the client's residence. The basis for this finding primarily comes from audio results. Multiple EVP were captured across separate sessions that were in apparent direct or immediate response to questions or statements. Captured EVP even suggested an entity was quite aware of causing knocking/tapping noises.
Since the ultimate source or origin of the audio is inknown, it cannot be said that any of the identified communications came from non-corporeal beings. Audio is not proof of ghosts.

ACTIONS/UPDATE: Followup investigations were conducted November 19-20, and December 17-18 employing all aforementioned capabilites and a infrared-capable four-camera DVR system. Subsequent noise filtering has uncovered EVP indicating multiple entities; an example is in the EVP ("We Act So Stupid"); an updated analysis is in the next post.
NOTE: The most current audio and video findings are archived and accessible via the Maryland Paranormal Research Facebook and Tumblr pages. See the ASSESSMENT: A Haunting in Anne Arundel County (Arnold) Maryland page for a rolling analytic review of this case.
---
TAGS:
Anne Arundel County
,
haunting
,
Investigations
,
Maryland
,
paranormal